NAPSA Certificate Program
The Adult Protective Services Workforce Innovations (APSWI) Program has received generous funding from the California Department of Social Services (CDSS) to coordinate and provide a limited number of National Adult Protective Services Association (NAPSA) Certificates to APS professionals in the Southern California counties of Imperial, Los Angeles, Orange, Riverside, San Bernardino, and San Diego. APSWI is serving as the liaison for the NAPSA Certificate program and will be the direct contact for all Southern CA Counties participating in the NAPSA Certificate Program. To register for one of these CDSS-funded NAPSA Certificate slots, please talk with your county training coordinator.
Please see below the "What You Need to Know" flyer to learn about the program in addition to the steps checklist eligible APS professionals  must take if interested in applying to the CDSS-funded NAPSA Certificate Program or view NAPSA Certificate "What You Need To Know" FY 23-24 Printer Friendly Version and NAPSA Certificate Checklist FY 23-24.
Note: For APS Professionals outside of California who are interested in participating in the NAPSA Certificate Program, please visit the National Adult Protective Services Association website and follow the instructions listed on their site.
Why should APS professionals participate in the NAPSA certificate program? Read some of the benefits APS professionals can experience after obtaining the NAPSA certificate in this flyer titled  "All About the NAPSA Certificate Program".
Steps to Apply for the NAPSA Certificate (additional details and required documents for each step are outlined following Steps 1-3)
---
Step 1: Complete NAPSA Certificate Application and Employment Verification Form and Send Them to APSWI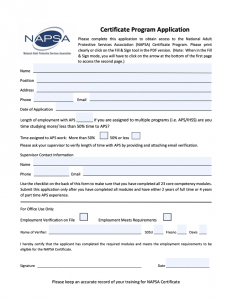 Begin the process by registering for the APSWI NAPSA Certificate Program through your county training coordinator
Complete page 1 of the NAPSA Certificate Application and date your application July 1, 2021.

Applicants receive training credit for NAPSA Modules that have been successfully completed up to two years prior to the application date.

Complete the Employment Verification Form and submit to Supervisor for signature and approval.
Submit completed NAPSA Application and employment verification form to APSWI's NAPSA Certificate Program Coordinator, Jennifer Ovalle at jovalle@sdsu.edu
Form Instructions
Click on the Fill and Sign tool in the PDF version. (Note: When in the Fill and Sign mode, click on the arrow at the bottom of the first page to access the second page.)
Step 2: Complete Training and Obtain Transcripts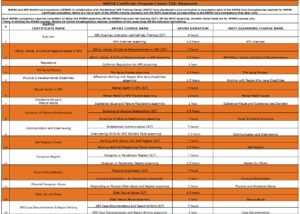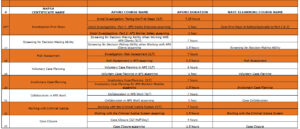 NAPSA to APSWI Core Competencies Course Title Alignment
Complete a training for each of the 23 Core Competencies.

T

o register for an APSWI eLearning, please submit a ticket to the LMS Help Desk

by following this link. Please be sure to

include the following:

Your name

Professional email address

Your county

Your department (APS) primary job assignment (line worker, supervisor, manager)

Your supervisor's name and email address
Note: If additional guidance is needed on how to submit a ticket to the LMS Help Desk via the Zoho ticketing system, please click on the following links: Zoho Overview and Submitting a ticket.
If you need to complete more than one eLearning to receive the NAPSA Certificate, provide a list of 2-3 courses at a time in the email

Maintain documentation for each completed module. Verify completion with one or more of the following:
>County or APSWI LMS Transcripts 
>Certificate of completion 
>Other forms demonstrating completion (e.g. training roster)
See Certificates and Transcript page for instructions on how to obtain APSWI LMS Transcripts from the Academy LMS.
For questions regarding outstanding or missing trainings, contact Jennifer Ovalle, the APSWI Program Assistant/NAPSA Certificate Coordinator, at jovalle@sdsu.edu
Step 3: Submit Training Completion Documentation to APSWI
Scan and submit:
County or APSWI LMS transcripts, certificates of completion, or other supporting documentation that shows successful completion of all Core Competencies.
Send email to Jennifer Ovalle at  jovalle@sdsu.edu
For additional information about the NAPSA Certificate Program, view the National Adult Protective Services Association website