Cultural Responsiveness Academy
About the Cultural Responsiveness Academy (CRA)
About the Cultural Responsiveness Academy (CRA)
The Cultural Responsiveness Academy (CRA) was established in 2016 to support child welfare staff and leaders in their efforts to achieve equity in their organization and confront issues of disproportionality and disparity of services that impact the children and families involved in the Child Welfare System.
The CRA provides a unique learning experience that allows participants to explore cultural differences, recognize potential individual and organizational biases, and practice culturally responsive behaviors through facilitated discussions.
It is designed to create a space for self-assessment, the development of skills and strategies to identify and manage bias, and the opportunity to contribute to a project that will improve cultural responsiveness within the organization.
Why is Cultural Responsiveness important to your organization?
Cultural Responsiveness is an organizational effort where all individuals share the responsibility to achieve system changes that will improve outcomes for the children and families involved in the Child Welfare System.
Who can participate in the Cultural Responsiveness Academy?
We invite Child Welfare Leaders, Line Staff, and Support Staff to participate in the CRA.
Representation from each work location in each cohort would be advantageous to create a comprehensive group project for the work location. Each group will have an opportunity to present their project to County Leadership at their Graduation Ceremony.
Participants are encouraged to be authentic in their discussions, and the Facilitators are tasked with modeling cultural responsiveness in the classroom.
We engage with Community Stakeholders and County Staff to discuss the focus of the classroom curriculum to develop an experience that is impactful for each population.
Program Requirements
This learning opportunity includes an eLearning, 7 monthly in-person classes with a simulation day, coaching, and a group project that highlights a new way of being culturally responsive, totaling a 9-month commitment of transformative experiences.
Consistent attendance allows for building trust and solid relationships in the classroom.
Questions?
Please contact the Program Manager, Wanjiru Golly, PhD, at wgolly@sdsu.edu
What our trainees are saying about the CRA:
By the end of the course our trainees have become so passionate and dedicated to making a change—its exciting! What our participants are saying about the CRA:
"Getting the conversation started and making it open. For some reason, the topic of race and social issues has become a taboo, especially in the workplace, however, whether we like to admit it or not, those issues play a role in our interactions with each other and our clients. This training definitely helped in breaking that barrier and silence on the topic and allowing for the conversation to begin on how we plan to make a change and a difference in what is taking place in our Agency." ~ Manager
"The most positive result I am seeing for myself as a result of participating in CRA is that I am more sensitive to other's cultural makeup, whatever that culture may be, Military culture, specific racial culture, religious culture etc. I am asking more questions of my clients in regards to how their specific cultural background might influence or be a component of the case." ~ Supervisor
"I'm having deeper level of conversations with youth about their culture and values…We had a conversation about his identity…I dug deeper to have more of a conversation and understanding of the youth. Although the material is difficult I am learning a lot." ~ Social Worker
CRA Graduates
Each series focuses on one population so as to focus on the discussions on the unique aspects of the population. The classroom discussions are facilitated by facilitators with the lived experience of the population of of focus. CWDS has partnered with San Diego and San Bernardino Counties.
San Diego CRA (Native American Series) 2018-2019 Graduates
Support Staff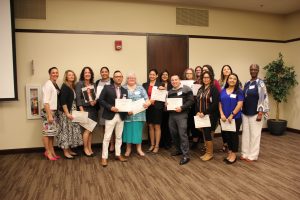 Line Staff

Leadership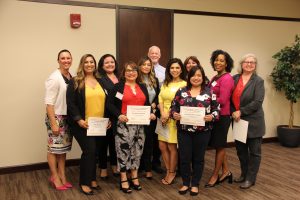 San Bernardino CRA (African American Series) 2018-2019 Graduates
Support Staff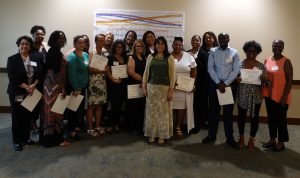 Line Staff

Leadership