Multi-disciplinary Adult Services Training and Evaluation for Results (MASTER)
Core Competency Curriculum Development
MASTER and its partner agencies have developed each of the National Adult Protective Services Association (NAPSA) 23 Core Competencies into easily accessible in-person and on-line training modules. Each module is examined by skilled APS professionals and experts in the field to determine specific learning objectives. MASTER staff work with nationally recognized experts to develop evidence-based curriculum that builds on adult learning theory and teaches to the identified learning objectives. Once drafted, each curriculum is reviewed by curriculum advisory committees composed of APS staff, supervisors, and managers to ensure the training will meet the needs of APS professionals in the field. Each curriculum is piloted-tested, evaluated, revised, and made available for use in training.
Download the NAPSA to MASTER Table of Core Competency Areas
Check out the available training for the NAPSA 23 Core Competency Areas
MASTER NAPSA Certificate Program–What You Need To Know
News and Updates
MASTER-APS is very excited to announce the completion of APS training videos!
This two-part video series demonstrates an APS professional making the first unannounced home visit to investigate allegations of self-neglect. Please click on the flyer for more information and to access the videos.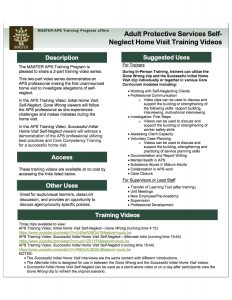 eLearning Updates

Our newest offering of eLearnings:
About Us
Multi-disciplinary Adult Services Training and Evaluation for Results (MASTER) is a training program designed to provide a competency-based multidisciplinary training to Adult Protective Services (APS) professionals and their partners. Our overarching goal is the professionalization of APS professionals to ensure that abused and vulnerable older adults and adults with disabilities receive high quality effective interventions and services.
MASTER has developed, in partnership with state and national organizations, a nationally recognized Core Competency Training Curriculum for APS professionals. This curriculum is reviewed and approved by experts in the elder and dependent adult abuse fields.
If you have any questions concerning MASTER-APS training please contact apstraining@sdsu.edu
Our Funders
Our current and past funders include:
Administration on Aging, U.S. Department of Health and Human Services
Archstone Foundation
California Department of Social Services, Adult Services Branch
California State University, Sacramento, In-Home Supportive Services Social Work Training Project
The Huguette Clark Family Fund for Prevention of Financial Abuse
The New York Community Trust
Office of Victims of Crime, Office of Justice Programs, United States Department of Justice
University of California Irvine, Center of Excellence on Elder Abuse and Neglect
Wells Fargo