Considering the present moment in the world, many people are experiencing stresses, changes, and other effects of the pandemic on top of what they may have already experienced in their past. It is essential to be mindful of our own mental health and that of others; and how we get through life in a unique way while embracing resilience and hardships.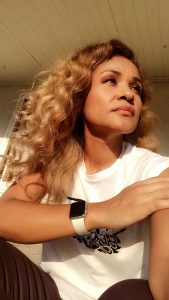 A little about myself, I am LaPrincess Greene of the Red Bottom People born for the Charcoal Streaked Division of the Red Running into the Water People, my maternal grandfather is from the Creole People, and my paternal grandfather is from the Many Goats Clan, this is how I exist as an Afro-Indigenous Navajo Woman. I was born on the Navajo Reservation and relocated to Phoenix, AZ due to instability, more opportunities for financial stability, education, as well as safety from unhealthy behaviors on my reservation. 
Having been impacted directly and indirectly by domestic violence, verbal abuse, emotional abuse, divorce, substance abuse, PTSD, depression, obsessive-compulsive disorder, codependency, anxiety, bipolar disorder, reactive attachment disorder, historical trauma, intergenerational trauma, suicide, homicide, loss of culture, loss of language, racism for being a mixed child in a majority Navajo family & poor minority in a middle-class community, boarding school trauma, and the distortion of traditional parenting skills associated with the American Indian Relocation Act; I have come a long way to encounter the current world condition. I am compassionately inspired to be a voice of encouragement to others who are experiencing mental stresses, while I recover and remain resilient by acknowledging they happened, I can not change them, and at the same time, I will live in a healthy and beautiful way. 
I looked to the teachings of my great grandparents, who were led by the Creator, and handed down to me through oral teachings– to remain strong while embracing each circumstance for what it is. In many cultures, the stigma of reaching out for professional help limits a person's ability to love and care for themselves, so we look to what is "acceptable", which is usually in the "norms" we are exposed to. It took me accepting that although traditional ways and alternative medicine are a valuable part of my identity and culture, sometimes a new professional approach with skill implementation can provide increased healing. I learned there is no specific formula to heal a person, it is very subjective. Recognizing there is a problem is the first step to start doing the work to heal, and reaching out for support to find the option that works for an individual is just the beginning of the journey.
"Trauma creates symptoms that are ADAPTATIONS; what we see as the problem is the person's solution." –Anonymous 
Resources: 
Inclusive Therapists https://www.inclusivetherapists.com/
Mental Health America https://mhanational.org/
National Native Children's Trauma Center https://www.nnctc.org/
Center for Native American Health and Family Resilience https://cncfr.jbsinternational.com/
Indian Health Services https://www.ihs.gov/
Strong Hearts Native Helpline https://strongheartshelpline.org/
WeRNative https://www.wernative.org/
National Alliance on Mental Illness https://nami.org/Home
National Empowerment Center https://power2u.org/
Co-Dependents Anonymous https://coda.org/
Written by LaPrincess Greene, Tribal STAR Administrative Support Assistant