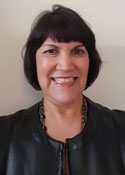 Tina Kerrigan
SACHS/LIA Assistant Program Coordinator
tkerrigan@sdsu.edu
(619) 594-8291
Tina Mata Kerrigan joined the Academy for Professional Excellence in October, 2010. She
started as a Program Assistant for Leaders In Action and Tribal STAR. In 2016, she was promoted to Assistant Program Coordinator and assumed the lead for Leaders In Action -12 while waiting for a new Program Manager. She also supported the Cultural Responsiveness Academy (CRA) for two years (2017 and 2018) and is assisting Adult Protective Services Workforce Innovations (APSWI) (2020-2021) as their Administrative Assistant.
She is responsible for planning and implementing the logistics for all training sessions,
coordinating the training schedules and coaching sessions, managing participant registration and invoicing, and budget overview for LIA, and overseeing the NAPSA Certificate Program and Out-of-State eLearning invoicing for APSWI. She also assists with administrative matters concerning Southern Area Consortium of Human Services (SACHS). Ms. Kerrigan also supports the Academy's Chief Executive Officer and Chief Financial Officer on special projects.
She received her professional certificate in Meeting and Event Planning from San Diego State University – College of Extended Studies in 2012.
---
Read more about Tina:
Can you briefly tell us about your role and impact within the Academy for Professional Excellence? 
I joined the Academy in October 2010 as the Program Assistant for Leaders In Action and Tribal STAR. I currently provide administrative support for Leaders In Action, SACHS and Executive Team.
What do you enjoy the most about working at the Academy?
Getting to do what I love to do – all things logistic and administrative – and being supported by an amazing team of leaders.
How has working at the Academy transformed your career and/or life?
Finding an organization that appreciates my talents and supports me has made the last 10 years working here to be some of the best of my career.
What is a fun fact we should know about you?
I'm a calligrapher and love to craft.
What are your Top 5 CliftonStrengths?
Maximizer, Deliberative, Harmony, Adaptability, and Consistency