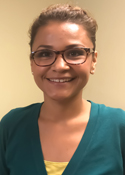 LaPrincess Greene, BA
Tribal STAR Administrative Assistant
lngreene@sdsu.edu
(619) 594-3126
LaPrincess is a member of the Navajo-Dine tribe from Northeastern Arizona. She is from the Red Bottom Clan,
T ł 'ááshchí'í; born for the Red Running into the Water Clan,Táchii'nii. 
In the past 16 years, she has focused her time on supporting her family, educational goals and serving in her community as a volunteer for local non-profits. She is a graduate from Arizona State University with her Bachelors in Organizational Leadership. She is excited to develop as a part of the Academy for Professional Excellence in the Tribal STAR program and to work with a team of forward thinkers, who have a common vision to make a positive contribution to the community.
In her personal time, LaPrincess loves to spend quality time with her 5 children, supporting them through their growth and development. She also loves to play sports, mainly softball; as well as,  spend time at the beach, read, and listen to music.