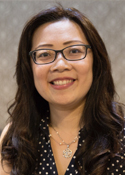 Joanne Chen, MA, CPC
Organization Development Specialist
jtchen@sdsu.edu

Joanne Chen is thrilled to be part of the Academy for Professional Excellence and works to ensure the organization grows and thrives as it continues to transform the heart, mind, and practice of human services professionals with innovative learning and development experiences.
Joanne brings her expertise in public speaking, training facilitation and design, coaching, team building, and marketing to her role as Organization Development Specialist.  She received her M.A. in Sociology from Rutgers University and her B.A. in History (with a concentration in the History of Science) from UC-Berkeley.  She is a graduate of the Coaching for Transformation certification program at Leadership That Works and is also a True Purpose® Trained Coach.
Joanne has appeared twice as a guest on the Transformation Talk Radio Network and has written about speech communication, the use of new technology for learning and civil engagement, and the role of play in organizational culture.  Her articles have appeared in various publications, including Contexts, the premiere sociology magazine for general readers.
For over 20 years, Joanne has been a student of personal and spiritual development, studying meditation, consciousness, mindfulness, and going on adventure after adventure, including shamanic vision quests.
Joanne is passionate about helping to create a world in which people can experience the freedom of being their true selves and thrive together while living on purpose.