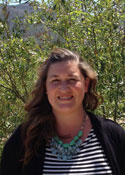 Jenni AhSing, MSW
CWDS Practice Consultant Manager
jahsing@sdsu.edu
(760) 518-0778
Jennifer AhSing, is currently the Practice Consultant Manager and the County Consultant for San Diego County with the Public Child Welfare Training Academy at the Academy for Professional Excellence.  She has worked in the field of Child Welfare for 12 years. She graduated with a Bachelor of Arts in Human Development from California State University San Marcos in 2001. She began her career with Child Welfare Services of San Diego County working at the Polinsky Center for Children as a Residential Care Worker where she provided supportive services to foster youth. She graduated with a Master's in Social Work from San Diego State University in 2006 and then returned to San Diego County Child Welfare Services in the capacity of a Protective Services Worker.
As a Protective Services Worker with San Diego County she conducted safety and risk assessments, case management services, and provided interventions in order to keep children safe. She promoted to Senior Protective Services Worker and in this role she supported training and staff development of new workers, supported the training and implementation of Safety Organized Practice across the county, and provided supervision to her unit in her supervisor's absence. Ms. AhSing joined the Academy for Professional Excellence and the Public Child Welfare Training Academy in 2013. She has provided coaching to workers and supervisors across the Southern California region to support the implementation of Safety Organized Practice in five counties.
Ms. AhSing has helped to design and pilot field advisor training and field activities related to California's standardized line worker core, known in California as Common Core 3.0. She has expertise in safety and risk assessment, Safety Organized Practice training and implementation, training and implementation of coaching programs, training and curriculum development, designing field activities and field advisor training to support new workers, and training and coaching to support the Child and Family Services Review (she is a certified trainer for the CFSR case review training). Ms. AhSing currently the manager over our teams of Practice Consultants who provide coaching across Southern California counties.