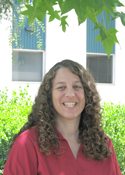 Janice Yuwiler, MPH
Organizational Development Manager
jyuwiler@sdsu.edu
(619) 594-3795
Janice Yuwiler is the former Executive Director of the California Center for Childhood Injury Prevention and the National Children's Safety Network Injury Data Technical Assistance Center. For over fifteen years she worked at the national, state, and local level helping health departments and community organizations assess the number and type of injuries amongst the populations they serve, establish a systems approach to preventing child and adolescent injuries, and develop, implement, and evaluate injury prevention programs. She has written several books, including a book for young people about family violence. Janice is currently the Organizational Development Manager for the Academy for Professional Excellence where she facilitates and supports the Academy's research, evaluation, strategic planning, staff development, resource development, and marketing efforts.
In her spare time, Janice continues to write books for children and serves the Regional Advisor for the San Diego Chapter of the Society of Children's Book Writers and Illustrators. She swims on a synchronized swimming team, is chauffer, cook, and clean-up crew for her three children, and enjoys hiking with her husband.