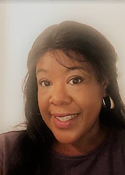 Erika D. Tucker, AMFT
CWDS County Consultant, San Bernardino and Orange
edtucker@sdsu.edu

Erika Tucker serves as a PCWTA County Consultant for San Bernardino County.  She earned her MA in Clinical Psychology from Pepperdine University.  Her career began as a line worker with Riverside County Child Protective Services.  During her tenure there she worked in a multitude of programs from an Emergency Response to a Permanency social worker.  Erika has over 20 years of social work experience.  She has a specific expertise in adoption services and training.  Erika supervised the Resource Family Training and Assessment Unit at Riverside County for over 6 years.  During that time, she was responsible for the training, screening, and assessment of thousands of potential foster parents. Her specialty is in curriculum development, writing psychosocial assessments, in addition to training at the university level on child welfare related issues.