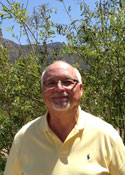 Wayne Rutledge, MFT
Wayne Rutledge received his Master's degree in Marriage and Family Therapy from Azusa Pacific University in 1991. He began his career as an Intake Worker with San Bernardino Department of Children and Family Services in 1992 and was responsible for referral investigations, filing Juvenile Court petitions and servicing his cases through the Jurisdictional/Dispositional Hearings.
Mr. Rutledge also spent 17 years as a supervisor. During his tenure, he supervised regional line worker units consisting of all programs from investigations through case closure or transfer to adoptions. He also supervised a regional Juvenile Court in Victorville consisting of post Juris cases and Dependency Drug Court. Prior to his retirement from San Bernardino County in 2014, Mr. Rutledge spent his final five years assigned to Placement Resources Division in Relative Assessment.
Wayne has experience teaching at the community college level. He taught psychology and substance abuse classes at Victor Valley Community College from 1991-1997.
Before Mr. Rutledge began his career in child welfare, he spent 2-1/2 years as a volunteer counselor with Lutheran Social Services working with sexual abuse victims and perpetrators. During this time, Mr. Rutledge and his wife were also under contract with San Bernardino Superior Court to work with domestic violence offenders.
Mr. Rutledge joined the Academy for Professional Excellence in January 2014 and is currently a Practice Consultant for County of Riverside Department of Public Social Services.