The Leaders in Action (LIA) program held a virtual graduation for participants attending the 16th cohort of the program. To date, a total of 424 graduates have completed this executive leadership program for county Human Service managers since its inception in 2004.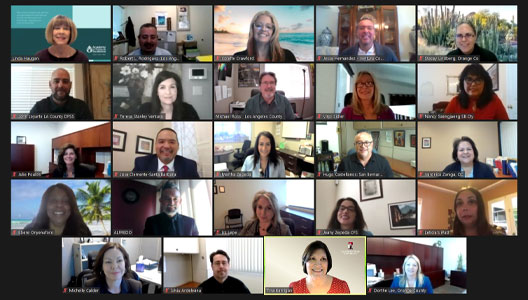 LIA was created by the Southern Area Consortium of Human Services (SACHS) directors to create a critical mass of highly competent executives in the Southern California region, through training, coaching and networking, who are ready for opportunities and challenges in Human Services Leadership.
The participants started their cohort in person in January 2020, only to be cut short by the COVID-19 pandemic two months later. They resumed virtual training in January 2021 which culminated in their virtual graduation on May 21.
Twenty-two graduates from the Los Angeles Department of Children and Family Services, Los Angeles Department of Public Social Services, Orange, Riverside, San Bernardino, Santa Barbara, and Ventura counties received their virtual certificates with their Directors and supervisors cheering them on.
Jennifer Tucker Tatlow, Academy for Professional Excellence CEO, and Debra Baetz, Orange County Director gave inspirational and supportive words of wisdom to this very resilient group of managers. It was a very challenging fourteen months for this cohort but shows the high caliber of leadership that currently exists in our counties. Congratulations LIA 16!
Return to Blog & Latest News