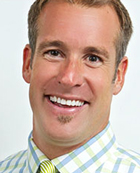 Marc Otto, MS, MA
Mark Otto is the Founder and Principal Consultant of Strengths Consulting LLC, helping companies drive and achieve measurable results by improving relationships.  He has worked with 19 different companies along the West Coast in the fields of Bio-pharmaceuticals, Software, Technology, Education, Insurance, and with County and Social Service agencies.  His expertise is Executive Conflict, Measuring and Driving Engagement, Increasing Employee and Team Performance, Employee Development and Wellness/Self Care.
Marc has had extensive experience in non-profit management, business development, and child welfare, and was introduced to the science of strengths by Chip Anderson when, as an Executive Director of a non-profit organization, they worked together with his team to perform and better understand one another.  Marc loves it when talent and integrity overlap and where someone's passion and skills drive them to make the world a better place for everyone!  He strives to help people understand, appreciate and work together, each better from the science of talent and practical strategies.
Marc has a wife, two daughters, and despite being deathly allergic to his two cats and dogs, he combats this by daily consumption of allergy pills.  He is fearless.  He loves surfing, scuba diving and anything dangerous.  His tastes are eclectic.  His favorite band is Radiohead, he has published underwater photos and is learning how to make flan – apparently, caramelizing sugar is hard.  He says he inherited his mom's sensitive heart while his sister got the brains but being a huge "book nerd", whenever his wife buys him a new book, he cries from happiness. Thus, the family banned him from watching the Hallmark channel in order to prevent unnecessary tears as well as the history and science channel so he might actually get some sleep.