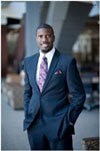 Barry E. Knight, BA
Pastor Barry E. Knight has committed his life to helping people reach their maximum potential!  He is a man of faith and family, and maintains a high degree of integrity and commitment to his personal development.
Pastor Knight is the founder of Barry E. Knight Speaks, a professional speaking, consulting, and performance coaching company that shares strategies with leaders and organizations on how to more effectively connect with, empower, and lead the people they serve.  He is also the lead pastor of Celebration Worship Church in Moreno Valley, CA and the author of "Impactability: Your Call to Massively Impact the Kingdom of God."
In 2013, Pastor Knight graduated with a Bachelor of Arts degree in Leadership from Faith Evangelical College and Seminary.   Pastor Knight has been an influential speaker for more than 17 years.  With opportunities to lead in both the business and ministry world, he has masterfully blended his experience as a businessman and spiritual leader into an electrifying and captivating speaking and coaching style that helps people experience personal and professional success.  This approach has gained him invitations to speak before thousands including business executives, entrepreneurs, government officials, human service professionals, educators, and church and community leaders.  Pastor Knight has an impeccable ability to discern the needs of his audience and deliver a life changing message that speaks directly to their hearts.