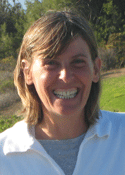 Valerie Ryan, MA
Learning Experience Design Manager
vryan@sdsu.edu
(858) 754-7605
Valerie Ryan is the Learning Experience Design Manager for the Academy for Professional Excellence. Prior to joining the Academy in May, 2009, Val worked for IVID Communications and assisted them with implementing eLearning courses for many large organizations and the Academy's BHETA program. Val has over 20 years of diverse experience in instructional design, project management, marketing, technical and creative writing, and video production. Val has developed and managed interactive training programs, educational videos, and eLearning courses for a variety of industries including the Department of Defense, major for-profit corporations, and health and human services professionals.
Since joining the Academy, Val has designed and developed more than 150 hours of online courseware for child welfare, adult protective services, and behavioral health staff. In addition to eLearning courses, Val designs and produces mobile applications and webinars. Val has presented at numerous training conferences on eLearning design and development, mobile application development and curriculum design for online distance education. Val has a MA from SDSU in television and film production and a BA in communications from American University.