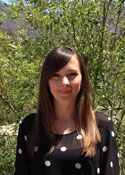 Rose Woods, BS
RIHS Manager
rwoods@sdsu.edu
(619) 594-2195
Rose Woods earned her BS in Community and Regional Development from the University of California, Davis in 2005. She joined the Academy as the BHETA Training Specialist in February 2014. As such, she plans and schedules trainings and trainers, conducts training advertising efforts and provides on-site coordination for trainings specific to Pathways To Well-Being in San Diego County.
Rose came to the Academy with nine years of coordination of training and events. She had previously worked for four years within the Children, Youth and Families Behavioral Health System for a school-based prevention and early intervention program. Rose has spent considerable time traveling through Europe and Asia where she completed coursework in language and society in Cordoba, Spain and was a Student Peace Ambassador in China.
In her spare time Rose enjoys gardening, traveling, staying active, listening to music and spending time with family and friends.