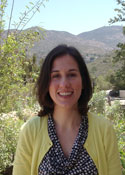 Renee Duci, MBA
CWDS Training Operations Manager
rduci@sdsu.edu
(619) 594-5814
Renee Duci earned her BA in Psychology from the University of Massachusetts in Lowell, Massachusetts in 2003 and her MBA from Assumption College in Worcester, Massachusetts in 2011. She joined the Academy as the Coastal Training Coordinator in August 2013 and expanded her role as the Training Operations Manager in September 2014. As the Training Operations Manager, Renee provides oversight, support, and direction to the training contracting, calendaring, logistics, site, and coverage functions of our training operations.
Renee came to the Academy with a wealth of experience in the banking industry. She has nine years of experience in retail banking in a variety of roles including 5 years as a trainer. While in that role, she designed, coordinated, facilitated and evaluated training programs for new and existing bank staff. Prior to her career in banking, Renee spent considerable time traveling through New Zealand and Europe where she obtained an ESL certificate and taught adult learners in Barcelona, Spain.
In her spare time Renee enjoys reading, traveling, cooking, listening to music and staying active.