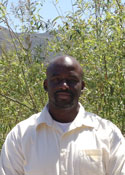 Preston Robinson, MS
Information Technology Manager
probinson@sdsu.edu

Preston Robinson has worked for the Academy since August 2012. In his time here he served as our Information Technology & Learning Management Systems Specialist and is currently our Information Technology Manager. He received his Bachelors of Arts in Liberal Studies from CSU San Marcos in 2005 and Master's in Information Technology from Southern New Hampshire University in 2019. Prior to joining the Academy, Preston has spent 16 years in San Diego Unified School District as a network and media technician and high school Web Development and Technical Support teacher.
Preston is a native to San Diego. In his free time, he is hiking, biking, camping, gardening, traveling, and anything that seems like fun or outdoors.