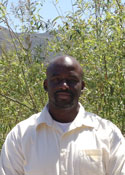 Preston Robinson, BA
Information Technology Manager
probinson@sdsu.edu

Preston Robinson has worked for the Academy since August 2012 as an Information Technology & Learning Management Systems Specialist. He received his Bachelors of Arts in Liberal Studies from CSU San Marcos in 2005 and also has a Designated Credential in Information Technology in the state of California. Prior to joining the Academy, Preston spent 16 years in San Diego Unified School District (SDUSD). In SDUSD, Preston wore many hats in his time with the schools. In his last position, Preston taught Technology Support Services & Web Site Design, with a side of career skills, for the College & Career Technical Education department to high school seniors in an Atypical (Alternative Education) school. Prior to being a teacher, Preston was a Network Systems & Media Support Technician for San Diego Unified School District, Gaspar de Portola Middle School, and Jean Farb Middle School.
Preston is a native to San Diego. In his free time, he is NOT playing with computers and technology, rather he is hiking, biking, camping, gardening, and anything that seems like fun or outdoors.