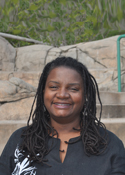 Minola Clark Manson, MA
BHETA Program Manager
mcmanson@sdsu.edu
(619) 594-7232
Minola Clark Manson is the program manager for the Behavioral Health Education & Training Academy (BHETA). BHETA provides training and technical support to the behavioral health system in San Diego County as well as prevention and early intervention education to San Diego County. Training and educations modalities include online and in-person.
Minola Clark Manson served ten years as the training coordinator for San Diego County's Health Services. She has had the lead responsibility for coordinating all aspects of trainings ranging in complexity from single session classes to multi-session classes, conferences and academies. She is intricately familiar with the principles of Adult Learning Theory and training evaluation.
Minola has an extensive background in the field of mental health, to include a masters in Clinical Psychology from CSPP, and has training expertise in the areas of diversity, cross-cultural issues, management and supervision, among others.