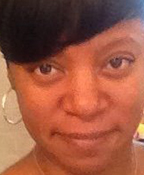 Lucy Levett, BS, MBA
Fiscal and Contracts Analyst
llevett@sdsu.edu
(619) 594-3102
Lucy Levett is a Fiscal & Contracts Analyst with the Academy.  Prior to working at the Academy she worked as Owner and CEO for Blessings Beyond Care Services, LLC, a small Home Care Servicing Agency she established in 2016 to provide care services to seniors and individuals who have physical challenges.  She received her Bachelor of Science degree in Accounting from N.C. A & T State University and her Master's degree in Business Administration from Ashford University.
Lucy has over 25 years of professional work experience which includes working as a Financial Reporter in the Investment Industry and working as a Project Analyst for the SDSU Research Foundation's Energy Innovation Small Grant program.  Lucy is passionate about supporting events designed to enhance the quality of life for seniors and those dealing with various illnesses.   In her free time, Lucy enjoys shopping, dining, and entertaining with family and friends.