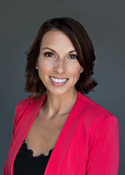 Jennifer Baum, MPA
Director of Business Development and CFO
jbaum@sdsu.edu
(619) 594-0765
Jennifer Baum has been with the Academy for 15 years. She received her Bachelor of Science degree in Child and Family Development and her Masters Degree in Public Administration, both from  San Diego State University.
Jennifer is a seasoned Finance Manager with over 14 years of direct experience with contracting, budgeting, accounting, and financial affairs. She is currently the Director of Business Development and Chief Financial Officer for the Academy for Professional Excellence, responsible for oversight for over $12 million annually. Jen provides oversight for the Business and Development Division functions (fiscal, contracts, IT,  LX Design, evaluation, and administrative support).