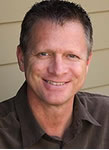 Bill James, MSW
CWDS Practice Consultant Supervisor, San Bernardino
wjames@sdsu.edu
(619) 708-3175
Bill James started working with teens in residential treatment in 1989. He graduated from Baylor University with a BA in Psychology in 1984 and from San Diego State University with a Master's in Social Work in 1993.
In 1993 he went to work for San Diego County Health and Human Services, Child Welfare Services, where he has worked Investigations, Voluntary Services, Continuing Services, and the Indian Specialty Unit.
From 2002 to 2014 he supervised a unit in Residential Services and has been supervising staff working on licensure, helping them hone their interviewing and clinical skills with a variety evidence based practices, including Motivational Interviewing. In 2011, he contributed to two books, one on Motivational Interviewing and Social Work practice and the other on Programs and Interventions for Maltreated Children and Families at Risk.
Bill is currently a Practice Consultant at the Academy for Professional Excellence, in the Public Child Welfare Training Academy program. He coaches and trains staff in the counties that the Academy serve