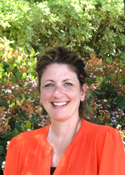 Amoreena (Amy) Jaffe, MPA
CWDS County Consultant, Los Angeles and Ventura
ajaffe@sdsu.edu
(702) 499-6052
Amy Jaffe joined the Academy in 2014. She is currently a County consultant for PCWTA for Los Angeles and Ventura Counties. She began her career in Human Resources in the private sector. Moved to improve the quality of life for vulnerable populations she changed careers and became a Social Worker in 2003. She started as a line worker in Child Welfare in Clark County, Nevada where she ultimately spent the next 10 years moving into Supervisor and later Assistant Manager and Manager roles.
During her time in management she primarily had oversight over the Independent Living and Foster Care Programs. In addition to leading and managing staff to achieve positive outcomes for children and families, she also gained extensive experience developing, training, and coaching for policy and procedures, managing change and utilizing implementation science to integrate new initiatives in the agency. She also was called upon to lead special projects and serve as the child welfare representative in various community meetings, including holding a seat on the Southern Nevada Regional Homeless Evaluation Work Group where she represented the needs of young people to access housing and supportive services.
Amy holds a Bachelor's degree in Social Work from California State Los Angeles and a Master's degree in Public Administration from University of Nevada, Las Vegas. She currently lives in Los Angeles County