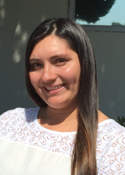 Maria Perez-Gonzalez
RIHS Training Specialist
mperezgonzalez@sdsu.edu
(619) 594-0793
Maria is a Training Specialist with Responsive Integrated Health Solutions (RIHS) at the Academy for Professional Excellence, where she supports and coordinates the training needs of San Diego County Behavioral Health Services.
Maria served as the Academy's receptionist prior to joining the RIHS program, where she exercised her administrative and coordination skills. Prior to joining the Academy, Maria worked in higher education where she served a diverse community of students from various cultural backgrounds.
Maria received her Bachelors of Arts degree in the field of Communication from San Diego State University in December 2017.
In her spare time, Maria is a foodie who enjoys spending time with her family and friends while staying active, learning, and growing.
---
Learn more about Maria:
When did you join the Academy, and what was your position when you first joined? 
I joined the Academy in July of 2018 as the Academy's Administrative Assistant. I now serve as the Responsive Integrated Health Solutions (RIHS) Training Specialist in which I coordinate and facilitate the general RIHS trainings. I work with internal and external stakeholders to manage and maintain training topics and logistics. I collaborate with subject matter experts to create and review training materials. I maintain continued correspondence with trainers, training participants, and stakeholders during each training coordination process to ensure that all deliverables are met.
How has working at the Academy revolutionized your career and/or your life?
The Academy has shown me that I am committed to being a lifelong learner, to be curious, to actively listen, and to approach with inquiry.
What is your favorite part of your job?
I enjoy the empowering and supportive learning environment and the multitude of educational opportunities available to the staff at the Academy.
What is a fun fact we should know about you?
I was born at a fire department.
What are you StrengthsFinder Top 5?
Includer, Restorative, Positivity, Communication, Responsibility