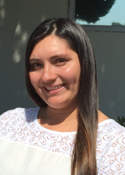 Maria Perez-Gonzalez
RIHS Training Specialist
mperezgonzalez@sdsu.edu
(619) 594-0793
Maria is a Training Specialist with Responsive Integrated Health Solutions (RIHS) at the Academy for Professional Excellence, where she supports and coordinates the training needs of San Diego County Behavioral Health Services.
Maria served as the Academy's receptionist prior to joining the RIHS program, where she exercised her administrative and coordination skills. Prior to joining the Academy, Maria worked in higher education where she served a diverse community of students from various cultural backgrounds.
Maria received her Bachelors of Arts degree in the field of Communication from San Diego State University in December 2017.
In her spare time, Maria is a foodie who enjoys spending time with her family and friends while staying active, learning, and growing.