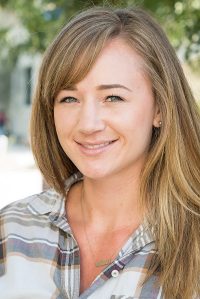 Morgan Baker
Morgan is so grateful to be a part of the HRSA GWEP Alzheimer's MSW Stipend Program for this academic year. Her background has been working with various groups of youth with disabilities and at-risk youth throughout San Diego County, primarily with youth in a residential treatment facility. She began her journey in the field here at San Diego State University where she earned a Bachelor of Arts in Women's Studies and Bachelor of Science in Child and Family Development.
In her first year of the MSW program, Morgan worked as an intern with the Epilepsy Foundation of San Diego County as a Client Services Provider where she gained experience in working with both adults and the family unit as they learned to cope with new diagnoses and adapting their lives to fit the unpredictability of epilepsy. Currently in her second and final year, she has the privilege to work with Southern Caregiver Resource Center and the Clinical Team to provide a unique service to the caregivers of those who are living with Alzheimer's and Dementia related diseases. She is so honored and grateful for all of her experiences the Social Work program has provided and look forward to a year of growth!
Update: Morgan was hired as a full time Family Consultant at the SCRC upon graduation.