Children Youth and Families System of Care (CYFSOC) Conference 2022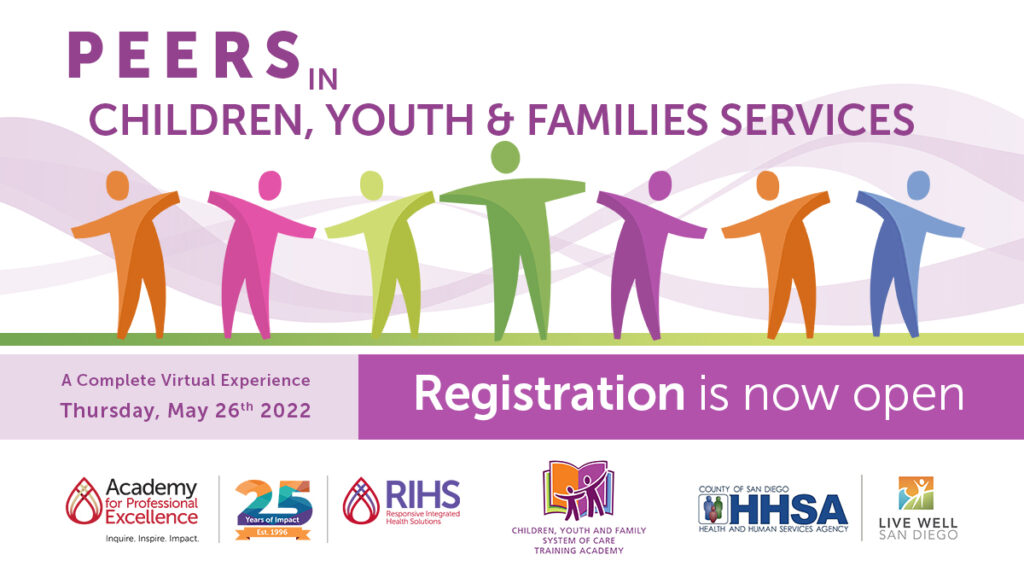 ---
Children Youth and Families System of Care Training Academy Presents: Peers in Children, Youth and Families Services
Integration of Peer Support and Recovery Services are essential to a comprehensive system of care. There are considerable benefits for organizations who prioritize staff integration of peers and lived experience into the service team and the organization itself.  The benefits extend past the work of people receiving peer support services. These benefits range from the cultivation of a more supportive and nurturing culture for everyone, to increases in the degree to which existing staff find their work to be meaningful. 
Peer supporters build relationships of mutuality and trust with the people they serve, leading to increased feelings of support, safety, and well-being. Through a combination of lived experience and specialized training, certified peer professionals provide an array of services that are imperative to effectively supporting children, youth, and families in our system of care.
In this full-day conference, participants will explore the historical roots of peer support, recovery fundamentals, and the improvements to the system of care when peers and lived experience are part of the service community supporting children, youth, and families.
Event Information:
Registration is now open!
Date: May 26, 2022
Time: 8:30 AM -4:30 PM
Location: Whova, a virtual event platform
Download the Whova Mobile App or Access the Web Platform on Desktop to view our event agenda, access streaming, handouts, video recordings, network, and more!
Learning Objectives
Explain the historical roots of peer support fundamentals

Describe the benefits of using lived experience 

Assess your organization's readiness to integrate peer workers

Describe strategies to engage, retain, and provide professional development opportunities for peers

List factors that impede high-quality career opportunities for peers

List three training opportunities that will enhance the peer work
Frequently Asked Questions (FAQ)
Visit the FAQ page to learn more about the 2022 CYFSOC Conference.