NAPSA Certificate Program
The MASTER-APS Training Program has received generous funding from the California Department of Social Services (CDSS) to coordinate and provide a limited number of National Adult Protective Services Association (NAPSA) Certificates to APS workers in the Southern California counties of Imperial, Los Angeles, Orange, Riverside, San Bernardino and San Diego.  To register for one of these CDSS-funded NAPSA Certificate slots, please talk with your county training coordinator.
Below are the steps to take to apply for the CDSS-funded NAPSA Certificate slots. For additional information, see the National Adult Protective Services Association website.
Steps to Apply for the NAPSA Certificate
Step 1: Complete NAPSA Certificate Application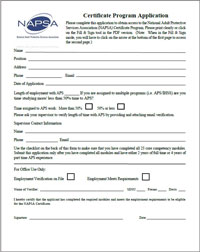 Begin the process by completing page 1 of the NAPSA Certificate Application.
Applicants may receive training credit for NAPSA Modules that have been successfully completed up to two years prior to the application date.
Application should be dated July 1, 2017
Form Instructions
Click on the Fill and Sign tool in the PDF version. (Note: When in the Fill and Sign mode, click on the arrow at the bottom of the first page to access the second page.) Use the second page to keep track of your training progress.
Step 2: Complete Training and Obtain Completion Documentation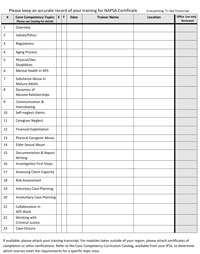 Complete a training for each the 23 Core Competencies.
Complete page 2 of the NAPSA Certificate Application as you complete each training.

Maintain documentation for each completed module. Verify completion with one or more of the following:
> Certificate of completion
> Forms demonstrating completion
> Transcripts
See Certificates and Transcript page for instructions on how to obtain this documentation from the Academy LMS.
Missing a training? Cross-check which of the 23 Core Competencies you are missing with the available MASTER courses.
Step 3: Obtain Documentation of Work Experience
Obtain written documentation from a supervisor or program manager that verifies that the training applicant has been a full-time APS professional for at least two years (or an equivalent number of part-time hours).
Step 4: Submit Documentation to MASTER
Compile all the above:
NAPSA Certificate application (fully filled out and dated July 1).
Transcripts, certificates of completion or other supporting documentation that shows successful completion of all 23 Core Competencies.
Employment verification.
Scan these documents and email to dhelbig@sdsu.edu.