NAPSA Certificate Program
Below is information on how to apply for the National Adult Protective Services Association (NAPSA) Certificate Program. For additional information, see the NAPSA Certificate Program website.
Important Notice: Recent browser security updates have deactivated the Flash Player on some computers. Many of the Academy eLearning courses use Flash. If you are experiencing problems accessing one of our eLearning courses, Adobe has provided instructions for checking your system to ensure the Flash Player is installed and enabling the Flash Player in your browser if it has been deactivated.
Certificate Application
Please click on the Fill and Sign tool in the PDF version. (Note: When in the Fill and Sign mode, you will have to click on the arrow at the bottom of the first page to access the second page.)
Please attach your training transcript and/or certificates of completion. Scan these documents along with the NAPSA certificate application and email to apstraining@sdsu.edu.
Click here to download the NAPSA Certificate Program application.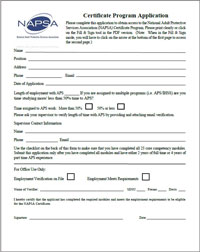 Core Catalog
Click here to download the NAPSA Core Catalog.
Certificates and Transcripts
For information on how to print your transcript, certificate of completion or continuing education certificate, please see the Certificates and Transcripts page.